YOUR WAUKEE athletic club
The Waukee Athletic Club (WAC) Competitive Softball Association's mission is to develop a championship girls softball program for the Waukee Community School District that encourages participation, excellence, sportsmanship, pride, and fun. We will accomplish and sustain this through player, coach, and facility development as well as fundraising and marketing with the assistance and cooperation of the parents and community.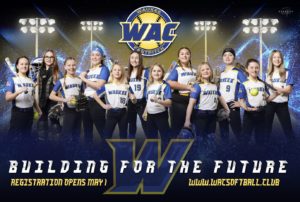 Meet the Teams
Playing on a WAC tournament team is a commitment. It can be a rewarding and challenging experience, as players are exposed to a more competitive level of play.
Making a WAC tournament team will be a rewarding and successful experience for players, parents and coaches.
WAC strives to make the evaluation process as impartial as possible. Girls will be placed on teams primarily based on their prior tournament play and commitment to a competitive softball experience, as well as their evaluation results.
Take a look at our current and former teams!